Submitted by: Saxman
In Sonic 3's stage select code, it's very obvious that the game was based on Sonic 2 code. The area is exactly the same, and because smaller images were never created for Sonic 3, they use the Sonic 2 level icons! You'll also see Mushroom Valley, Flying Battery, and Sandalopolis's names there, showing that some S&K levels were originally planned for Sonic 3.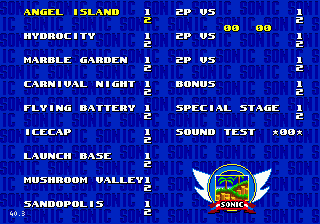 Submitted by: AJ Freda
"I used the S&K Collection editor to create a sonic 3 savegame at flying battery and this is what i got, oh yeah i can also choose knux =)"
Through this method in the PC version of the games, the title icon is a lot different to the one found in the final game. A prototype level icon perhaps? Note how it also says level 5, just like in the selection in the images above.